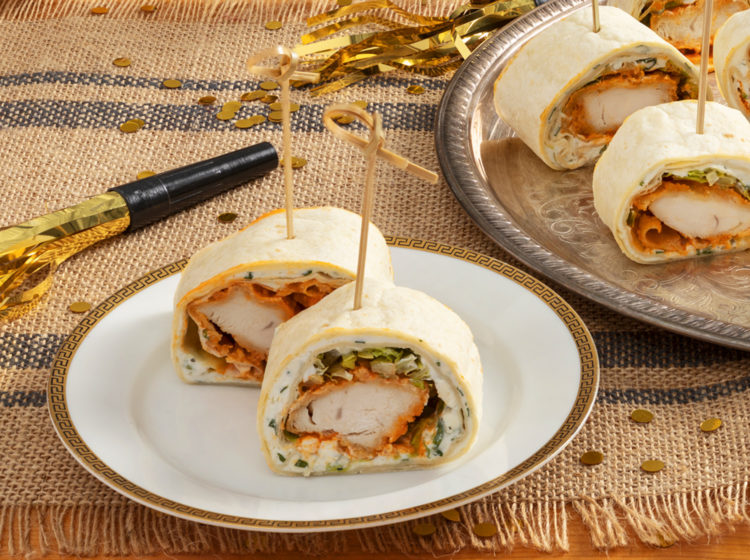 Buffalo Chicken Party Pinwheels
Serves: 8
Prep Time: inutes
Cook Time: inutes
Total Time: inutes
Get the party started with these festive pinwheels! Our perfectly juicy breaded chicken tenders get all dressed up in hot sauce, blue cheese and celery (just like wings from your favorite pub), and are cleverly wrapped in flatbreads for convenient single-serve bites.
Ingredients
1 box Bell & Evans breaded chicken tenders
4 oz Cream cheese, room temperature
4 oz Sour cream
4 oz Crumbled blue cheese, divided
1/2 tsp Freshly ground Black pepper
1/4 tsp Salt
1 tsp Fresh Italian parsley, chopped
1/3 cup Buffalo wing sauce
4 Sandwich wraps or flatbreads
8 Leaves Romaine lettuce
1-2 Stalks celery, diced
Preparation
Preheat oven to 375°F. Spread frozen chicken tenders on baking sheet and bake for 25-30 minutes.
Meanwhile, in a small bowl combine cream cheese, sour cream, 2 oz. of blue cheese, pepper, salt and parsley. Stir to combine.
While hot, place the chicken strips in a bowl and toss with the hot sauce. Place on a cooling rack to cool.
To assemble pinwheels, spread each flatbread with a generous amount of blue cheese dip. Place two chicken strips along a short edge of the flatbread. Place lettuce next to the chicken, sprinkle with the diced celery and remaining blue cheese. Roll up the flatbreads and cut each crosswise into 6 to 8 pieces.
Secure each pinwheel with an appetizer pick. Refrigerate until ready to serve.