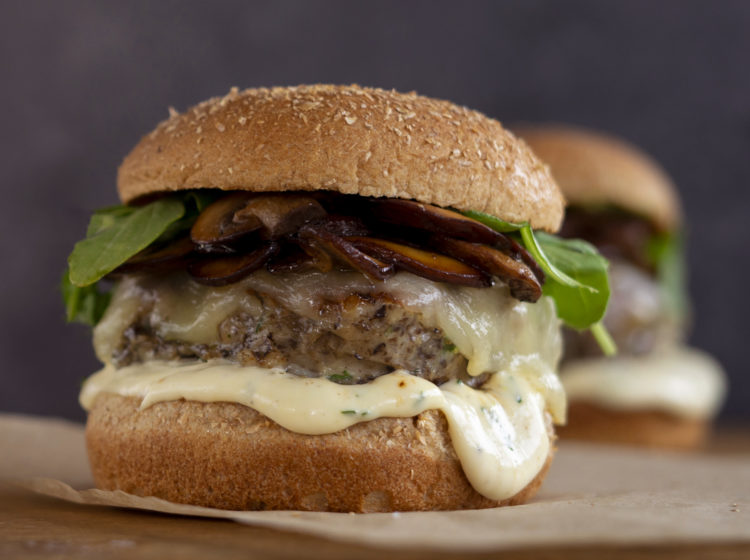 Blended Chicken Marsala Burger
Serves: 4
Prep Time: inutes
Cook Time: inutes
Total Time: inutes
This blended Chicken Marsala Burger takes cues from a favorite dinner recipe, Chicken Marsala. It's like Chicken Marsala to go!  Mushrooms, blended with juicy, savory ground chicken, topped with a dijon aioli sauce.  Yum!
Ingredients
Burgers
3 T unsalted butter
8 oz. Cremini mushrooms, finely chopped
8 oz. Baby portobello mushrooms, finely chopped
1 Small Yellow onion, finely chopped
3 Cloves Garlic, minced
1/4 Cup Marsala wine
1 pound Bell & Evans 100% Leg Meat Ground Chicken
1 T Fresh parsley, minced
1 T Fresh oregano, minced
1 1/2 tsp Kosher salt
1 tsp Black pepper
4 Slices White cheddar cheese
4 Whole wheat hamburger buns, toasted
Fresh baby arugula
2 T Olive oil
Dijon Aioli
1 C Mayonnaise
2 T Dijon mustard
1 T Fresh parsley, minced
Salt and pepper, to taste
Preparation
Melt butter in a large skillet over medium-high heat. Add mushrooms and onions, and saute until tender, 5-7 minutes. Add garlic and cook 1 minute, stirring to combine. Stir in marsala wine and continue to cook until mushrooms absorb marsala. Remove from heat and cool slightly.
Combine half of cooked mushrooms with ground chicken, parsley, oregano, salt and pepper in large bowl, mixing with hands until just combined. Form into 4 patties.
Heat 1 tablespoon olive oil in same skillet. Add 4 patties to skillet and cook burgers 3-4 minutes per side, until golden brown and cooked through to internal temperature of 170ºF. When burgers are 2 minutes from finishing, top with cheddar cheese and cover, allowing cheese to melt. Repeat with remaining olive oil and patties.
While burgers cook, combine all ingredients for aioli in medium bowl, seasoning with salt and pepper to taste.
Smother cut side of hamburger buns with aioli. Layer bottom bun with handful of arugula, burger patties, remaining mushrooms and top bun.
You may also like