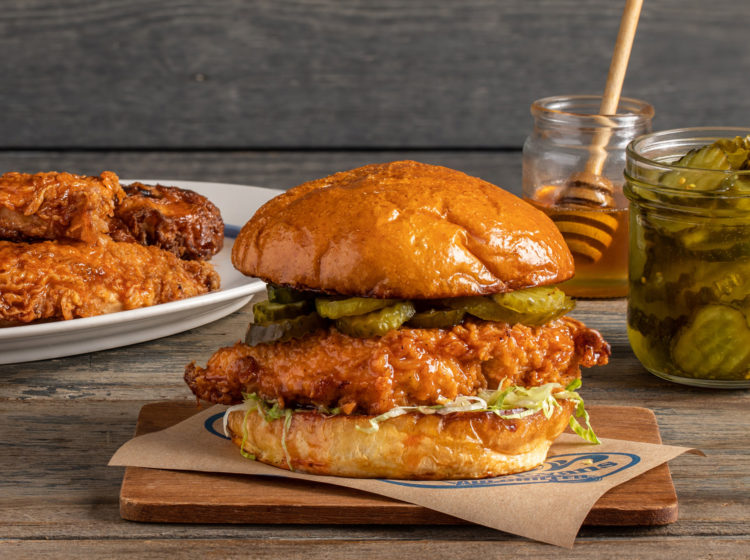 Bell & Evans Hot Chicken Sandwich
Serves: 3
Prep Time: inutes
Cook Time: inutes
Total Time: inutes
Skip the fast-food drive-through and make crave-worthy fried chicken sandwiches in your own kitchen! When it comes to such a classic preparation, quality ingredients make all the difference. Our recipe starts with air-chilled, antibiotic-free chicken breasts tenderized in a hot sauce-spiked buttermilk marinade, fried to golden perfection and tossed in spicy citrus honey.
Ingredients
1 Pkg Bell & Evans chicken breasts
1 Cup Hot sauce, divided
1 1/2 Cups Buttermilk
1/2 tsp Ground mustard
2 Cups Flour
3 tsp Paprika
2 tsp Cayenne pepper
2 tsp Onion powder
2 tsp Garlic powder
2 tsp Salt
1 tsp Black pepper
2 1/2 Cups Canola oil, for frying
1/2 Cup Honey
A few drops of Lime juice
3 Brioche buns, buttered and grilled on the cut side
Shredded Iceberg lettuce
Kosher or dill pickle chips
Preparation
In a shallow glass bowl or casserole, whisk together 1/2 cup hot sauce, buttermilk and ground mustard and set aside. Place chicken breasts in a casserole dish, and toss to coat in buttermilk. Marinate in refrigerator for 1 hour.
Whisk together flour and remaining dry seasonings in a large shallow bowl.
Remove chicken from marinade, shake off excess and dredge each piece in the flour mixture. Dip once more in the marinade, let the excess marinade drip off and dredge in flour again.
In a Dutch oven or large cast-iron skillet, heat the oil to 350°F. Fry each breast for 15-18 minutes, or until internal temperature reaches 160°F as measured by a meat thermometer.
Featured Product
You may also like