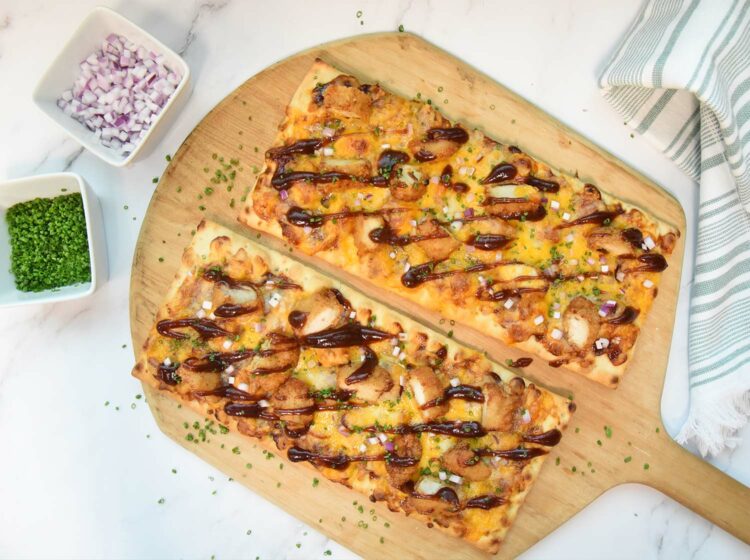 BBQ Chicken Nugget Flat Bread Pizza
Serves: 4
Prep Time: inutes
Cook Time: inutes
Total Time: inutes
Pizza night is the best night of the week.  Our Organic 100% whole breast meat Chicken Nuggets add a fun and delicious protein to this easy Friday night family Flat Bread Pizza.
Ingredients
2 ea Flat Bread pizza shells (4 shells if using a smaller, round shell)
10 oz Barbeque sauce
1 1/4 cups Shredded Cheddar cheese (from the block is best!)
1 1/4 cups Shredded Part Skim Mozzarella cheese
1 bunch Sliced Chives
3 TB Minced red onion or shallot
Preparation
Cook or air fry Chicken Nuggets according to package directions.
Preheat oven to 375°F (toaster ovens also work if your shells fit).
Slice chicken into smaller, bit sized pieces.
Lay out the pizza shells and spread ½ cup of barbeque sauce evenly on top, about ½ from the edges.
Sprinkle ½ of your mozzarella on each shell and place chicken on top.
Cover with ½ of the shredded cheddar on each shell, trying to keep cheese off the edges to prevent burning in your oven.
Bake directly on the rack until the crust turns a golden brown and your cheese has melted.
Remove from the oven and sprinkle onions and chives over each flat bread pizza, and then drizzle with remaining BBQ sauce.
You may also like