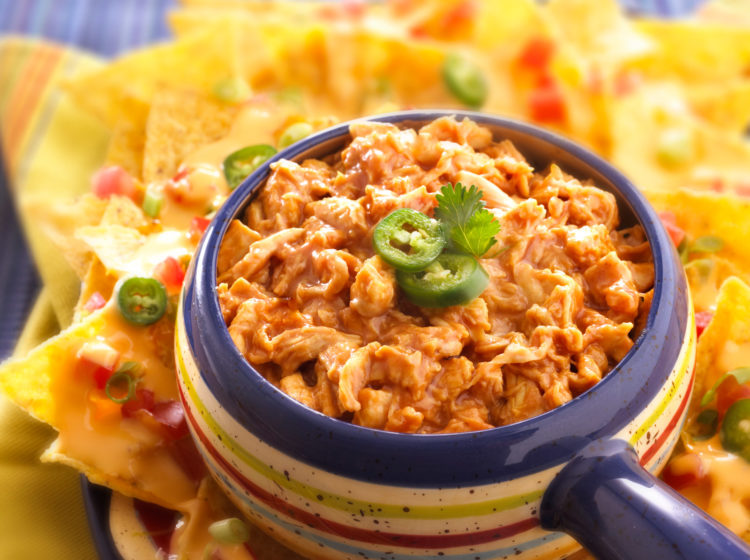 BBQ Chicken Nachos
Serves: 8
Prep Time: inutes
Cook Time: inutes
Total Time: inutes
What better way to use your left-over Bell & Evans Slow Cooker Pulled BBQ Chicken than coupling it with crunchy tortillas and creamy cheese sauce.  We added our favorite nacho toppings and ¡Olé! Instant party on a plate!
Ingredients
Cheese Sauce
2 T Unsalted butter
2 T All-purpose flour
1 Can evaporated milk (12 fl oz.)
1 Cup whole milk
1 Cup light cream
4 oz. Sharp Provolone cheese, shredded
4 oz. Monterey Jack cheese, shredded
8 oz. Sharp Yellow Cheddar cheese, shredded
½ tsp Onion powder
¼ tsp Ground mustard
Pinch, nutmeg
Pinch, cayenne pepper
Pinch, black pepper
Salt, to taste
To Serve
Tortilla chips
Cheddar cheese, shredded
Jalapenos, seeds removed, thinly sliced
Red bell pepper, seeds removed, small diced
Tomato, small diced
Green onion, thinly sliced
Cilantro, roughly chopped
Preparation
Cheese Sauce
In a large sauce pan melt butter. Add flour & cook the 'roux' over medium heat for 2 minutes, stirring continuously.
Add evaporated milk, whole milk and light cream. Bring to a simmer whisking constantly until smooth & creamy.
Add remaining ingredients, whisking to incorporate. Simmer 10 minutes until slightly thickened.
Turn off heat. Add cheese & spices. Stir until completely melted. Add cooked elbow pasta.
Blend with sauce and season with salt to taste.
Cover and keep warm or reheat when nuggets are fully baked.
NOTE: Add a splash of milk if need be to adjust desired consistency.
Finished Nachos
Preheat oven to 350°F.
Line a baking sheet with parchment and place a layer of tortilla chips.
Top with shredded cheddar cheese, jalapenos and red bell pepper.
Bake until cheese is melted and golden brown, approximately 10 minutes.
Remove from oven. Top with cheese sauce, tomato, green onion and cilantro.
Serve with our Slow Cooker BBQ Chicken (on top or on the side).
Featured Product
You may also like