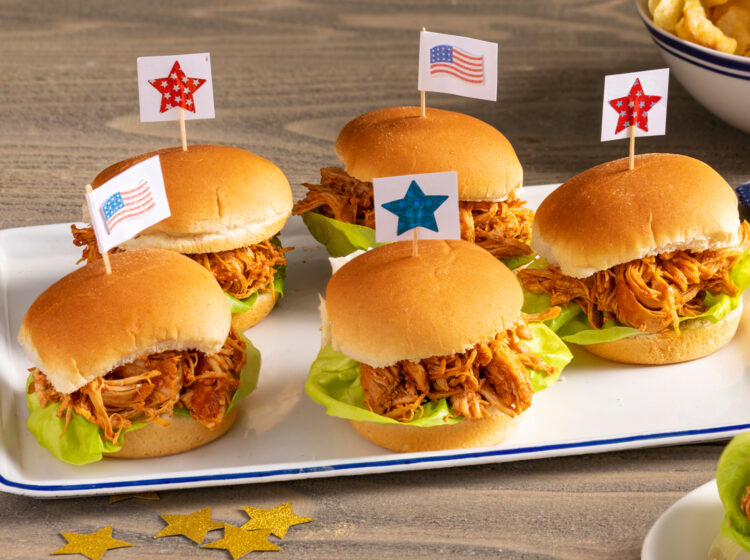 Barbecue Pulled Chicken Sliders
Serves: 12
Prep Time: inutes
Cook Time: inutes
Total Time: inutes
Looking for a fantastic dish that can feed a crowd — no oven required? Look no further than this easygoing recipe that uses a slow cooker to transform our hand-trimmed Boneless, Skinless Chicken Breasts into savory, juicy pulled chicken, infused with the flavors of a summertime barbecue.
Ingredients
1 Pkg Bell & Evans Boneless, Skinless Chicken Breasts
1 Red onion, minced
1 TB minced Garlic
5 oz Tomato paste
2 TB Light or dark brown sugar
1 TB Cider vinegar
1 TB Yellow mustard
1 TB Worcestershire sauce
2 tsp Chili powder
1 tsp paprika
1 tsp Salt
1/4 tsp Cayenne pepper
1/2 cup Chicken stock or water
24 Slider buns
24 Patriotic picks*
Preparation
Add minced onion, garlic, tomato paste, brown sugar, vinegar, mustard, Worcestershire and spices to a slow cooker. Stir together into a thick paste.
Add chicken breasts and toss to coat in the sauce.
Cover the slow cooker and cook on HIGH setting for 2-3 hours, or 4-6 hours on LOW. The chicken is ready to shred when you can easily pull it apart using two forks, or when it registers 165°F on a meat thermometer.
Remove the chicken from the cooker and allow to cool slightly on a cutting board or platter. Use two forks to shred the chicken.
Return the shredded chicken to the slow cooker and add water or chicken stock. Stir until chicken and sauce are thoroughly combined.
Assemble the pulled chicken sliders by portioning chicken onto slider buns and securing lids with a patriotic pick.*
*Note: *Use store-bought patriotic picks, or craft your own with the kids while the chicken is cooking, using craft paper, colored pencils or stickers, glue and toothpicks.
Featured Product
You may also like