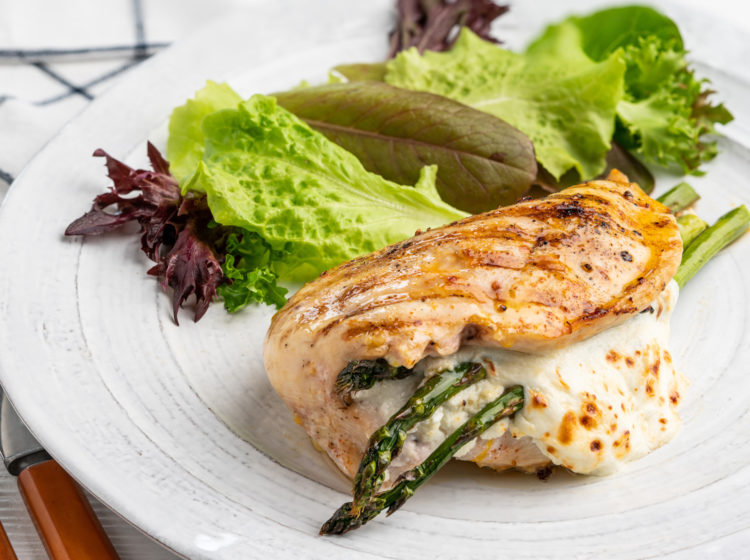 Asparagus-Stuffed Grilled Chicken Breast
Serves: 3
Prep Time: inutes
Total Time: inutes
Elevate your everyday chicken breast with this elegant, fresh and super-flavorful recipe featuring our 100% Air Chilled Boneless Skinless Chicken Breast. Even better, it's only 5 major ingredients.
Ingredients
2 tsp Lemon zest
Salt & Pepper, to taste
3 oz Goat cheese
9 Asparagus stalks, ends trimmed
3 Mozzarella cheese slices
1/2 tsp Paprika
1 TB Olive oil
Preparation
Preheat grill to 425°F, or oven if you are using a grill pan indoors.
Slice into each chicken breast, lengthwise, but not all the way through, creating a pocket. Season inside of the chicken breasts with lemon zest, salt, and pepper.
Spread 1 oz goat cheese on the bottom of each pocket. Lay 3 asparagus pieces on goat cheese and top asparagus with one slice mozzarella cheese. Fold top of chicken over, enclosing the filling. Brush outside of stuffed breasts with olive oil. Season with paprika, salt & pepper, to taste.
Grill the chicken on hot grill or grill pan for 3 to 5 minutes per side. If outdoor grilling, reduce heat to medium and close the grill lid, baking the chicken for about 15 minutes, or until the chicken reaches an internal temperature of 165°F on a digital thermometer. If using a grill pan indoors, place the chicken in the preheated oven for 15 to 20 minutes.
Featured Product
You may also like