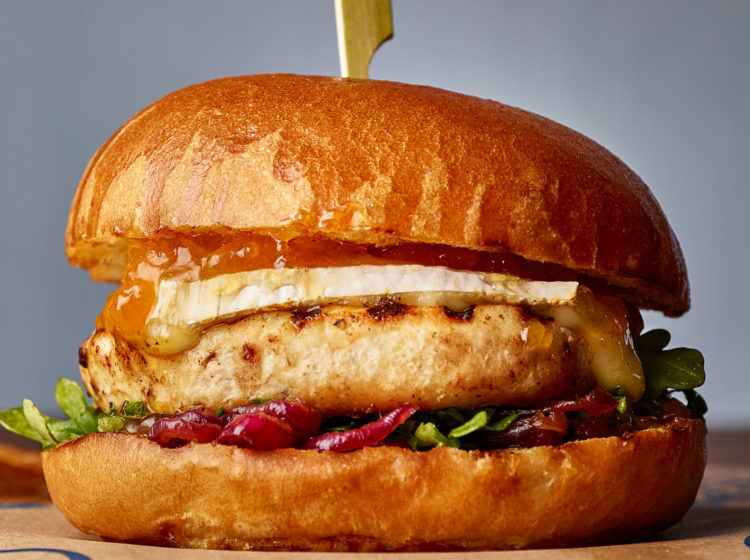 Apricot Brie Grilled Chicken Burgers
Serves: 4
Prep Time: inutes
Cook Time: inutes
Total Time: inutes
Chicken is the new beef!  Our juicy Chicken Burgers masterfully grilled and layered with our favorite combo of apricot jam, arugula, caramelized onions and creamy Brie.  Sure to be your new go-to family fave.
Ingredients
8T Unsalted Butter
1 Large Red Onion, peeled, cut in half & thinly sliced
1T Granulated Sugar
1T Balsamic Vinegar
Salt & Pepper, to taste
Brioche Buns, cut in half 4
2 Cups Arugula
4-6 T Apricot Preserves
4-6 oz. Brie, sliced
Preparation
Prepare onions: In medium sauté pan heat 4T butter over medium heat. Add onions and cook approximately 10 minutes, stirring occasionally until golden brown.
Reduce heat to low, add granulated sugar and balsamic vinegar. Cook an additional 10 minutes, stirring occasionally until well caramelized. Remove from heat. Season with salt and pepper, to taste.
Prepare grill for medium direct heat.
Season frozen burgers with salt and pepper, to taste. Place burgers on the grill and cook approximately 8 minutes per side or when cooked to an internal temperature of 170°F as measured by a meat thermometer.
Remove from the grill and immediately top with sliced brie. Brie should melt slightly.
Lightly butter brioche buns with remaining butter and grill until toasty brown.
To Serve
Build burgers by arranging caramelized onions on bottom half of brioche buns.
Top with arugula, burgers with brie, a generous dollop of apricot jam and remaining brioche tops.
Serve with chips.
Featured Product
You may also like