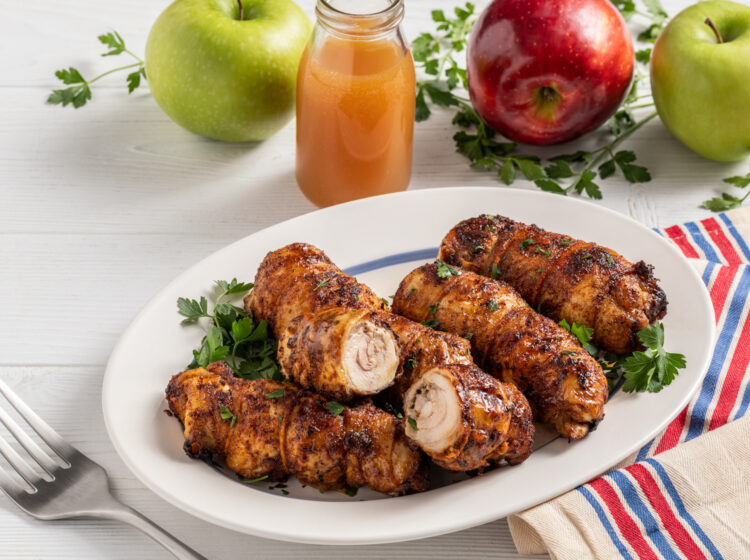 Apple Cider-Marinated Chicken Thighs
Serves: 3
Prep Time: inutes
Cook Time: inutes
Total Time: inutes
Looking for super-juicy chicken with big, bold flavors? Try this easy recipe: First, Bell & Evans Boneless Skin-on Chicken Thighs spend some time in an apple cider marinade, and are then rubbed with a homemade seasoning blend that's just the right balance of sweet, smoky and spicy. In just under 15 minutes in the air-fryer, this delightful dish is ready to go!
Ingredients
1 cup Apple cider
2 TB Dijon mustard
3 TB Vegetable oil
2 tsp Salt
1 tsp Pepper
2 TB Brown sugar
2 TB Paprika
3/4 tsp Black pepper
3/4 tsp Chili powder
3/4 tsp Garlic powder
3/4 tsp Onion powder
Preparation
In a resealable bag, combine chicken, apple cider, mustard, oil, salt and pepper. Massage the mixture into chicken to cover completely. Marinate at room temperature for 30 minutes, or refrigerate several hours or overnight.
Brush excess marinade off chicken. Roll chicken thighs with skin-side out and tie each one with kitchen twine.
In a small bowl, combine brown sugar, paprika, pepper, chili powder, garlic powder and onion powder. Rub spice mixture over chicken.
Coat air-fryer basket with nonstick cooking spray. Place chicken in air-fryer basket. Cook skin-side-up at 350°F until light golden-brown, about 8 minutes. Flip chicken over and cook for 6 minutes, or until internal temperature reaches 165°F.
You may also like