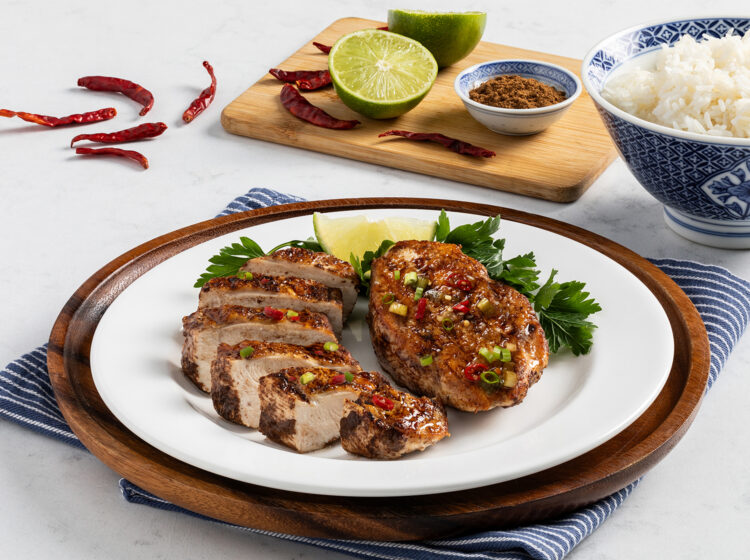 Air-Fryer Five-Spice Rubbed Chicken Breasts
Serves: 2
Prep Time: inutes
Cook Time: inutes
Total Time: inutes
If you love Asian-inspired dishes, add a jar of Chinese Five-Spice powder to your pantry! This aromatic blend of seeds and spices lends a delicious warmth — and a tingly kick from the Sichuan peppercorns — anytime it's used. For this weeknight-friendly dish, simply rub the spice blend and a touch of sugar on Bell & Evans Boneless Skin-On Chicken Breasts and pop them in the air fryer; the skin helps keep the meat tender and it crisps up nicely, perfect for soaking up the chili-soy dipping sauce served alongside the chicken.
Ingredients
2 TB Olive oil
2 Green onions, chopped
1 Lime, juiced
1 Thai chili, stemmed, thinly sliced
1 Garlic clove, finely grated
2 tsp Soy sauce
1 TB Chinese five-spice blend
1 TB Brown sugar
2 cups Cooked jasmine rice, for serving
Preparation
Combine the oil, green onions, lime juice, Thai chili, garlic and soy sauce in a small bowl. Set aside for serving with the chicken.
Preheat the air-fryer to 380°F. Spray the inside of the air-fryer basket with nonstick cooking spray. Mix the five-spice blend and brown sugar together in a small bowl. Rub the spice mixture over the chicken and under the skin.
Place the chicken, skin-side-up, in the air-fryer basket. Cook until light golden-brown, and the internal temperature reaches 165°F, about 12-15 minutes. Allow the chicken to rest for 5 minutes before slicing. Serve with the rice, lime wedges and green onion sauce.
Tip: Make your own Chinese five-spice blend! Simply combine 2 teaspoons Sichuan peppercorn, 6 whole star anise, 1 tablespoon ground cinnamon and 1 tablespoon fennel seed in a spice grinder. Grind until a fine powder, about 15-30 seconds. Store the spice mix in an airtight container until ready to use!
Featured Product
You may also like