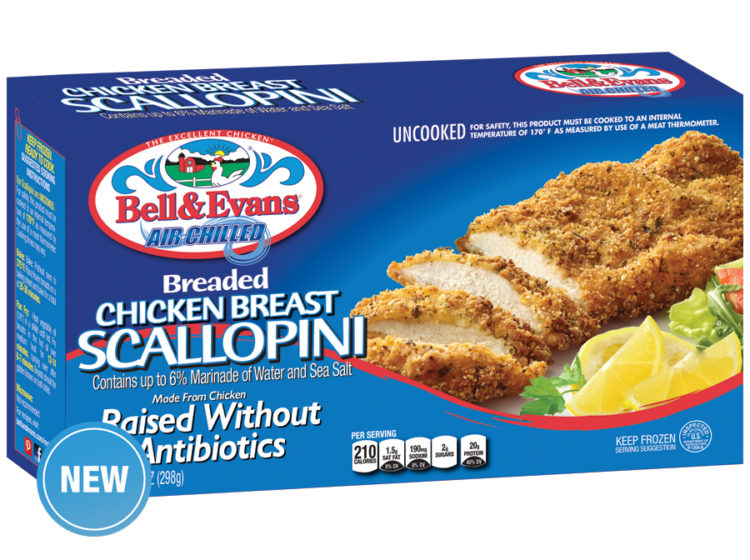 Breaded Chicken Breast Scallopini – NEW
Does your gourmet recipe call for flattened, breaded chicken?  Cut the cooking time in half by using this prepared item in dishes like Chicken Piccata, Lemon Chicken or Chicken Marsala.  The same great (or better) taste in half the time!
Chicken Breast Meat Marinated in Water and Sea Salt.  Breaded with Water, Unbleached Wheat Flour, Bread Crumb (Unbleached Wheat Flour, Sugar, Yeast, Salt), Parmesan Cheese (Pasteurized Part-Skim Milk, Cheese Culture, Salt, Enzymes), Dried Whole Eggs, Nonfat Dry Milk, Black Pepper, Parsley. Flash fried in organic expeller pressed soybean oil to set breading.
ALLERGEN INFORMATION: Contains Eggs, Milk, Wheat
Our Scallopini are UNCOOKED.  Keep Frozen until Ready to Cook. For safety, this product must be cooked to an internal temperature of 170°F as measured by the use of a meat thermometer.  Cooking times may vary.
BAKE:  Preheat oven to 375°F.  Place frozen breasts on a baking sheet and bake for a total of 25-30 minutes.
PAN FRY: Heat vegetable oil (1/8″) in a skillet until hot.  Fry breasts in the hot oil over medium heat for 12-14 minutes, turning over after 6-7 minutes.  Breasts should be golden brown on both sides.
MICROWAVE: Not Recommended
Featured Recipe
You may also like