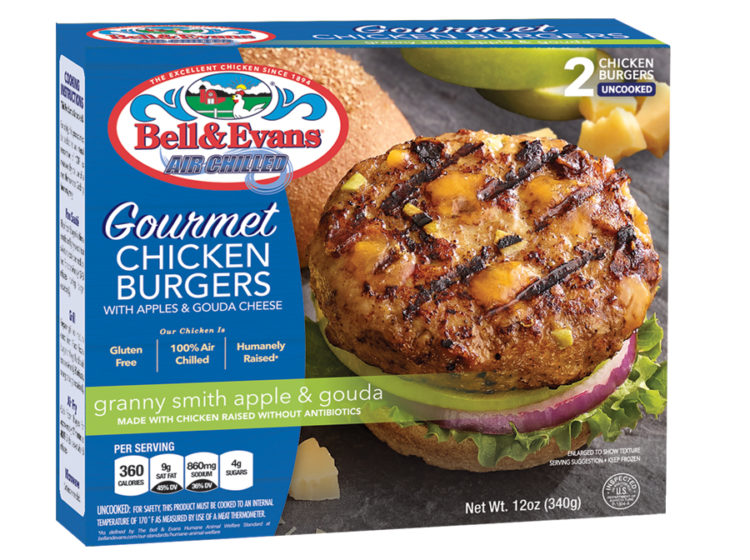 Granny Smith Apple & Gouda Gourmet Chicken Burgers
New, 6 oz. Gourmet Chicken Burgers full of diced, tart Granny Smith apples and creamy Gouda Cheese with added smoky seasonings.  Our Gourmet Chicken Burgers come in two other flavors, Chicken Bacon & Cheddar and Portabella Mushroom & Swiss.  Try all three!
Watch our video for Recipe Inspiration!
No Hormones
This product is free from artificial growth hormones.

No Junk
This product is made with no fillers, no preservatives and no artificial flavors—in other words, no junk.

Time Saver
Chicken Leg Meat, Chicken Skin, Gouda Cheese (Pasteurized Milk, Cheese Culture, Salt, Enzymes, Color Added), Seasoning (Brown Sugar, Sea Salt, Cane Sugar, Spices (Black Pepper, Thyme, Cassia, Sage, Mace, Ginger, Coriander), Smoked Sugar, Less than 2% Canola Oil), Granny Smith Apples (Treated with Ascorbic Acid, Citric Acid and Sodium Chloride to Prevent Browning).
Pan Saute: Place frozen burger in either a nonstick or lightly-oiled (1 tsp.) skillet and cook over medium heat for approximately 15-18 minutes, flipping burger occasionally.
Grill: Prepare grill for medium direct heat. Place frozen burger on the grill and cook for approximately 30 minutes, flipping the burger occasionally.
Air Fry: Pre-heat air fryer to 360°F. Place frozen burger in air fryer basket. Cook for approximately 20-24 minutes, flipping burger half way through cook time.
Microwave:  Not recommended.
Featured Recipe
You may also like