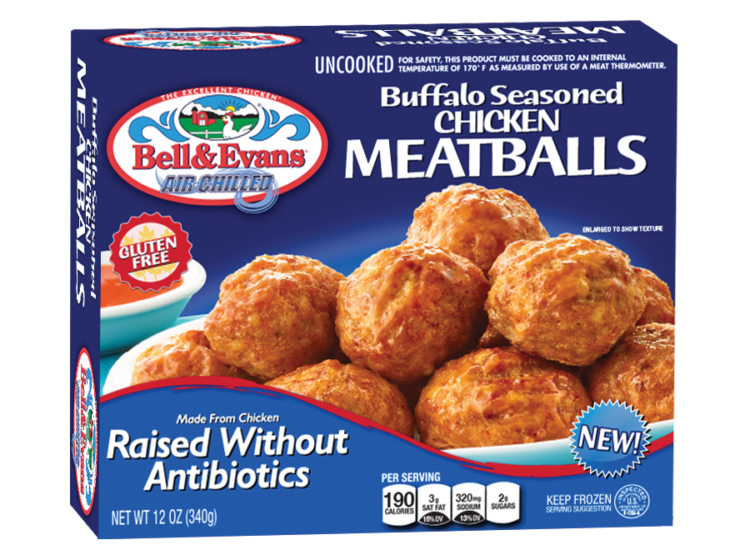 Buffalo Seasoned Chicken Meatballs
These flavorful gluten free, buffalo-seasoned chicken meatballs deliver a mild-to-medium heat depending on your tolerance. Garnish with a little Ranch or Blue Cheese to complete the look. They make the perfect simple, yet premium appetizer that your crowd will love!
No Hormones
This product is free from artificial growth hormones.

No Junk
This product is made with no fillers, no preservatives and no artificial flavors—in other words, no junk.

Time Saver
Chicken Leg Meat, Chicken Skin, Water, Maltodextrin, Hot Sauce (Aged Cayenne Peppers, Vinegar, Salt, Garlic Powder), Sugar, Red Pepper, Tomato Powder, Vinegar, Garlic Powder, Chicken Broth, Dried Chicken, Dried Chicken Skin, Natural Flavors (Including Extractives of Celery Seed and Rosemary), Salt.
Bake: Preheat oven to 375°F. Spread frozen meatballs on a baking sheet and bake for approximately 30 minutes.
Stovetop: Pour water into a skillet, just covering the bottom. Place frozen meatballs in the skillet and cover with a lid. Cook over medium heat for approximately 17 minutes, stirring the meatballs occasionally.
Air Fry: Cook frozen meatballs for approximately 17 minutes at 400°F, shaking the air fryer basket after 8 minutes.
Slow Cooker:  If using a slow cooker, please follow the instructions noted above under "Bake" PRIOR to putting the meatballs in the slow cooker.  Our meatballs are raw and will not keep their round shape unless they are baked prior to using in a slow cooker.
Featured Recipe
You may also like