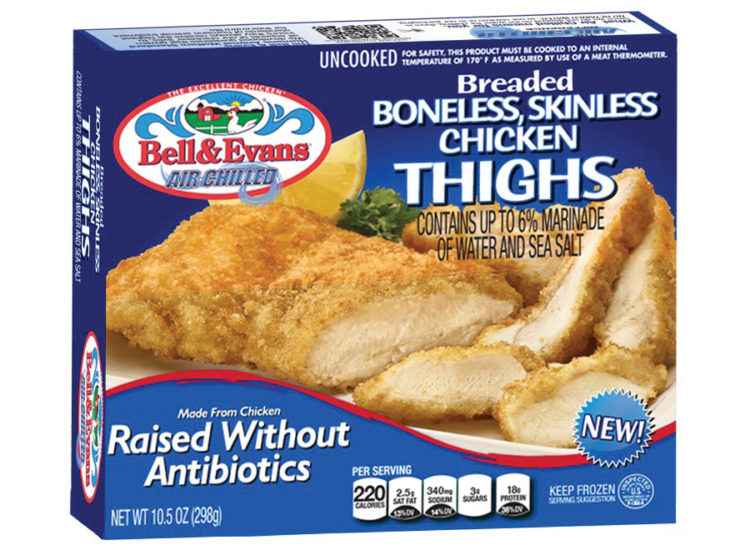 Breaded Boneless Skinless Chicken Thighs
These breaded chicken thighs are delicious on their own as a premium entree, or as the first step in a gourmet chicken recipe.  They are seasoned to perfection and ready to cook.  No antibiotics, No chlorine.  Just pure, delicious, flavorful chicken.
No Hormones
This product is free from artificial growth hormones.

No Junk
This product is made with no fillers, no preservatives and no artificial flavors—in other words, no junk.

Time Saver
Boneless Skinless Chicken Thighs Marinated in Water and Sea Salt. Breaded with Unbleached Wheat Flour, Water, Cane Sugar, Dried Yeast, Sea Salt, Black Pepper, Paprika.
Flash fried in Organic Expeller Pressed Soybean Oil to set breading.
ALLERGEN INFORMATION: Contains Wheat
Keep Frozen. Ready to Cook.  Our Breaded Thighs are UNCOOKED.
For safety, this product must be cooked to an internal temperature of 170° as measured by the use of a meat thermometer.  Cooking times may vary.
Bake: Preheat oven to 375° F. Place frozen thighs on a baking sheet and bake for a total of 30-40 minutes.  For crispier results, bake on a cooling rack or use convection bake.
Pan Fry: Heat vegetable oil (1/8″) in a skillet until hot.  Fry thighs on medium high heat for 15-17 minutes, turning each thigh after 7-8 minutes until all sides are golden brown.
Air Fryer: Preheat air fryer to 400°F. Spread out the frozen thighs as a single even layer in the air fryer basket. Cook for 16 minutes, flipping after 8 minutes.
Microwave: Not recommended.
Featured Recipe
You may also like