This amazing Stone Ground Mustard Chicken Drumstick Recipe is a clear winner, literally.  We held a contest this year to find some terrific recipes for Chicken Drumsticks, and were not disappointed.  We had several really great options, but this one by Beth Dobbins is simple, easy to make and delicious.
Here's her story:
"I manage to sneak in healthy recipes for my family, and Bell & Evans makes it very easy. When you start with quality ingredients, you can't go wrong. But if you had told me ten years ago that I would win a chicken recipe contest, I would have said, "Impossible!" because back then, I couldn't eat chicken at all.
Twenty-eight years ago, I had to stop eating all poultry, because I was getting severe migraine headaches.  To make a long story short, antibiotics and processing chemicals were eventually found to be the cause.  I was told that even organic poultry was processed with dangerous chemicals, so I should just avoid poultry in any form.
I missed chicken, but I learned to live without it.  Then a few years ago, I ran across the Bell & Evans web site.  I read every detail about their product and decided to try a small amount to see if I got sick.  I did not get sick!  From that day forward, I was a Bell & Evans girl.   I believe that Bell & Evans' humane and sanitary policies make a huge difference in taste, safety, and quality.
Food quality is a focal point in my life because I work on a sensory spectrum panel for a well-known food producer.  Our job is to define and measure product attributes, so I know flavor.
That's why I panicked a little last year when my doctor told me, 'No more fried foods and watch your salt intake', and so I had to come up with some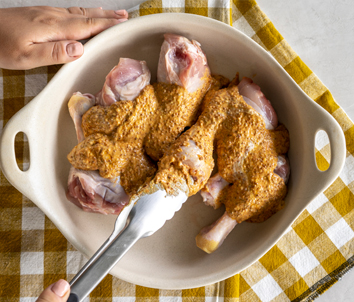 new recipes.  I chose ingredients that would layer well and complement each other.
I bought a package of Bell & Evans drumsticks (or three,) and slathered them with a mixture of stone ground mustard, a little mayo, some smoked paprika, and a little garlic powder, then browned them on stove top for extra flavor.  I baked them for about 40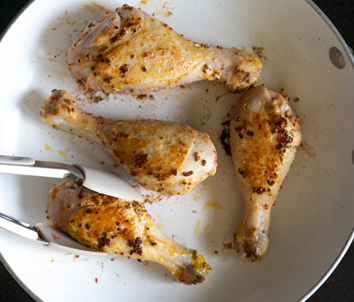 minutes (flipping once.) They were really good, without added salt or fat.
My family commented on how tender, juicy, smoky, and roasted the drumsticks tasted, but completely missed fact that they had no added salt or fat.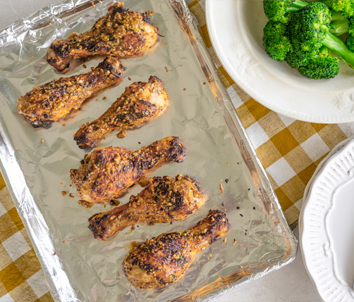 This marinade recipe is so good that I make bone-in thighs the same way.
Thank you Bell & Evans for providing a clean, delicious, and humanely raised product!"
Featured Product
You may also like