We recently surveyed consumers to find out if they knew what Spatchcock Chicken was. And much to our surprise only a few knew about this 200+ year old method of preparing a whole bird.
The History
Documented in books starting in 1775-1785 from Ireland and England the process of spatchcock is simply, removal of the backbone and flattening of the bird giving the ability to season on both sides. Then traditionally cooked on a grill or open fire cutting the cook time in about half of a whole un-cut bird.
The cut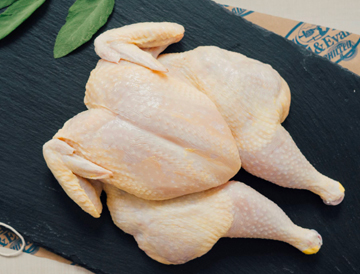 Most grocery stores don't even carry Spatchcock chicken, so real foodies and grill aficionados have to Spatchcock their own chicken.  Our Spatchcock chicken is already cut with the back removed. Since it is 100% air chilled, no need to rinse off chlorinated water from water chilling.
Spatchcocking allows for easier grilling and faster cook times.
How to
Grilling is an easy way to make the chicken your own, with your own flavors.  Think Jamaican Jerk Chicken, or a spicy dry rub.  Just toss it on the grill with a dry rub or salt and pepper.
However, if you're looking for a recipe, the following recipe has been created specifically for our Spatchcock Chicken.  The brine locks in the natural juices of the chicken.  Then the Citrus, honey rosemary butter soaks into the chicken, giving it a delicious taste and crispy skin.