The Air Fryer Makes Cold Packed Lunches a Thing of the Past!
Kids are picky eaters, but how boring is packing a cold sandwich with snacks every day?!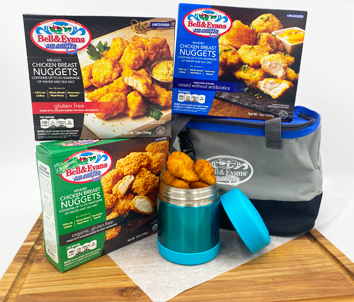 Have you ever considered sending them to school with warm, home-cooked nuggets? Now you did!
Bell & Evans Whole Muscle Breaded Chicken Nuggets are EXCELLENT anytime but especially when cooked in an Air Fryer. And cooking in an Air Fryer is so simple and convenient!
Buy a 10-ounce stainless steel insulated food jar and you can soon send one lucky family member (or multiple) to school or work with their favorite chicken nuggets!
Here's How:
Cook frozen Bell & Evans Chicken Nuggets in your Air Fryer according to the packaging instructions. Hint: they generally cook at 400˚F for 10-12 minutes (cooking times vary by Air Fryer), but they'll need to reach an internal temperature of 170 degrees.
Get ready for work. The beauty of the Air Fryer is it will turn off when the time is up and your nuggets will be waiting for you!
Place a paper towel in the bottom of your food thermos and place the cooked nuggets on top. The paper towel will absorb some moisture to keep your nuggets crispy and delicious for hours! Secure the lid.
Send your kid (or self, or spouse!) out the door with a superior quality, absolutely delicious chicken nugget lunch! If you want to change it up, try this same method with Bell & Evans Parmesan Breaded Chicken Meatballs!