Greetings from the Sechler kitchen! I am Monica (Bonetti) Sechler, wife of Scott Sr.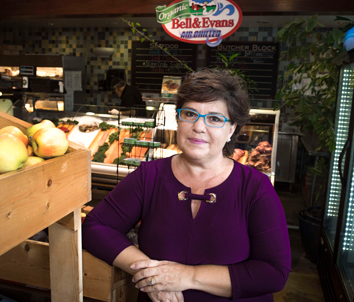 My favorite way to spend time is cooking, searching for new recipes and taking cooking classes. From a young age, I was surrounded by fabulous cooks. From hand-mixing and rising homemade pizza dough, to jarring quarts of handpicked peaches, and even picking and preparing grapes for homemade wine, the passion and patience my family had in the kitchen and garden was obvious. As a youngster, I didn't always participate in the kitchen, but I can see now that this is where my curiosity for cooking started. The aromas, smiles and traditions are something you just want to recreate.
As Scott travels the world searching for new ideas and modern technology for Bell & Evans, I join him as much as possible. We have experienced fabulous specialties like Swiss fondue in Switzerland, mouth-watering veal schnitzel in Germany and even open-fire sardines in Spain. We take it all in and ask many questions. We are always curious of spices, sauces, breadings and cooking concepts. Most everyone is eager to share their expertise, and we bring back our learnings and share them with the Bell & Evans team to put this knowledge to good use at the further processing plant or with the new product development team.
When we are traveling and dining closer to home, we often ask our server what brand of chicken they use. If the server returns with the answer, "Our chef uses only Bell & Evans chicken," we can barely hold back a high-five. If he/she comes back with a different answer, we know there is more work to be done.
Married for 29 years as of October 7, I have encouraged and supported my husband (and now children) from the sidelines. I am so proud of our family and the superb Bell & Evans team, past and present, who have steadily pushed us forward to produce the best chicken in the world!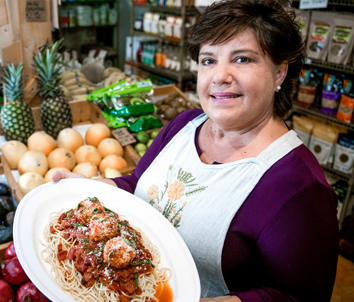 I have included my chicken meatball recipe below which is my husband's most-requested dish. If you aren't a huge garlic fan, I encourage you to change up the recipe with basil or oregano, and I even suggest using other cheeses to your liking. Sometimes I even add a ½ cup of frozen, chopped spinach (thawed) for color. However you do it, make it your own. Enjoy!
Featured Product
You may also like