About Seasoned Ground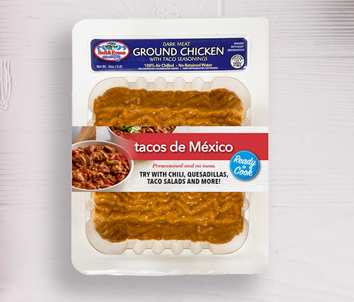 Our seasoned ground chicken really simplifies meals for time starved families.  There is a myriad of dishes one can make from the taco seasoned grind: from chili con carne to tacos or even a queso dip.  Once of my favorite applications is an empanada as we are featuring here.
About Empanadas
Empanadas have Spanish and Portuguese origins and are a savory pastry turnover that can be fried or baked as we prepare in this recipe.  They can be filled with just about anything and we love them for a sit-down dinner but also convenient when on the go.  They give us an opportunity to take something delicious with us.
The preparation for the filling is pretty quick to make and your best bet is to prep all of your veggies before searing the ground chicken so they are ready to add once you get some color on the ground chicken.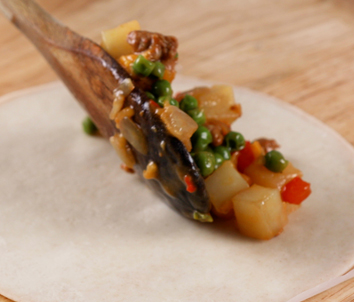 Once you start to sear the meat, take your pastry rounds or empanada dough out of the freezer so it can be filled and crimped by the time your mixture is done.  Make sure to give your mixture a few minutes to cool before getting ready to fill your empanadas.
If you buy frozen, prepared empanada dough and they come separated by wax paper or a small plastic sheet, keep them on those sheets to make moving and filling the rounds easier.  These sheets also prevent the dough from sticking to each other.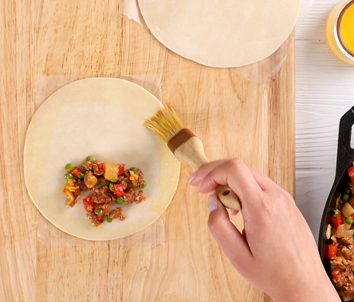 When making these at home, make sure you have enough space to work, about 24" x 36" space is adequate.  You can work directly on the counter or a cutting board to fill the doughs.  Some folks prefer to make these by hand, while others use an empanada maker/crimp.  No matter what your technique is, the both deliver delicious results.  To get a good seal, make sure to keep the filling off the edges!
Once the doughs are sealed, place them on to a parchment lined cookie sheet.  I lightly spray the parchment with a nonstick vegetable oil to help them crisp on the bottom.   Often, I'll make a couple spicy empanadas by adding some chipotles in adobe to the filling.  Make sure to mark them though!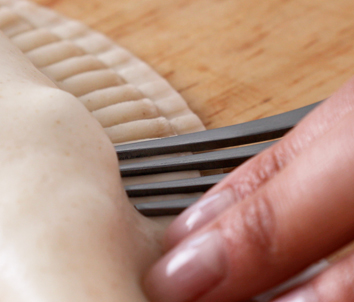 The flavor of the Bell & Evans taco seasoned ground chicken is so versatile and can be paired with so many accompaniments.  For this recipe with empanadas, I like a chunky guacamole with some pico di gallo mixed in with some extra lime juice.  The acidity of the lime and pico de gallo give a fresh, brightness to the dish.  Another easy accompaniment is a compound sour cream.  It can be as simple as adding some lime zest and chopped cilantro!
One other way that I season the empanadas is to sprinkle some cheddar cheese on top of the empanadas before I bake them.  The cheese will add a little bit of fat to the exterior of the dough that will help them to bake nicely and the cheese will crisp up on the top of each empanada giving a little extra crunch!
These are such a hit as an afternoon snack or for dinner.  We always make extra since we usually have an unplanned guest or two at our house.  If they don't all get eaten, we never worry since these reheat perfectly in the air fryer!
Featured Product
You may also like