According to Epicurious, our Boneless, Skin-on Whole Leg, the elusive, "nearly impossible to track down" cut, is the tastiest, juiciest, and hardest to overcook. It's the perfect cut of meat for people like myself that prefer the dark meat.
With the versatility to grill, saute, oven bake or bread and pan fry makes the creativity of this cut almost endless, with the skin keeping the meat nicely intact and ensuring a juicy flavorful gastronomic experience.
For years, fine dining chefs have featured this cut in restaurants. Scott realized that if fine dining chefs were clamoring for this cut of meat, home chefs and foodies would want it too.
The most Unique Cut of Chicken
And now you can use it to create gourmet meals at home without having the mess of having to cut the bone out.  It's cost effective too, because you aren't paying for bones that you won't eat.  But how to use this unique cut of meat?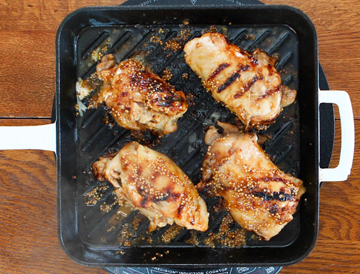 For Grilling Season, you can brush it with your favorite marinade, then grill with your favorite vegetable.  Or you can follow our recipe for this delicious Grilled Lemon Ginger Chicken with Mango Mustard Glaze.
Your Unique Spin
Or before Grilling, you could stuff it with a number of options like Feta and Spinach, sausage, apple and Brie cheese.  The possibilities are endless.
We'd love to hear from you… what is your perfect stuffing for this unique cut of chicken?