Most people know that Chef Fabio Viviani hates cilantro. So, when asked the question, "what do you love?" he quickly responded, "fresh pasta and chicken." Chef Viviani has a long history with chicken. He grew up in Florence, Italy, in a family that didn't have much. But they did have chickens. One hundred of them, in fact. And you only need flour and water and… eggs, of course, to make fresh pasta. His family ate a lot of fresh pasta, and when a chicken didn't look quite right, they had chicken. Today, fresh pasta and chicken still top the list  of foods Chef Viviani loves.
The fundraiser
On August 23, Chef Fabio Viviani spoke at our Celebrity Dinner, one of three events celebrating our 10 years of fundraising for the WellSpan Sechler Family Cancer Center in Lebanon, Pennsylvania. He helped design the menu for the evening, three of the courses taken directly from his cookbook, Fabio's 30-Minute Italian. Guests at our Celebrity Dinner took home a signed copy of his book.
The dishes were delicious, and we were delighted with his stories.  Our favorite story was the one about the craziest meal he ever cooked!
The meal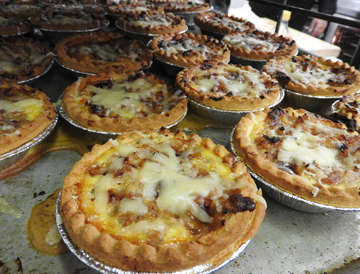 The main entrée Chef Fabio Viviani selected for our Celebrity Dinner was his Prosecco-Braised Chicken with Sundried Tomatoes and Leeks, substituting our new Boneless, Skin-on Whole Chicken Leg for the Boneless Chicken Thighs in the recipe. It was accompanied by a fabulous Baked Gruyere, Grana Padano and Caramelized Onion Tart and Butter Lettuce Salad with Granny Smith Apples, Pomegranite seeds and Charred Shallot Vinaigrette.  It was amazing! The chicken skin was perfectly crispy and the accompaniments were so delicious!
The artist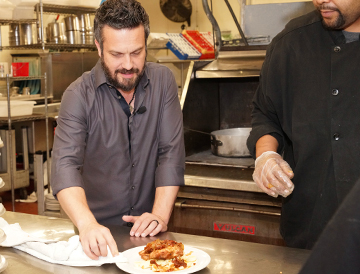 By age 28, Chef Fabio Viviani owned a string of restaurants and clubs in Florence, Italy. He sold them all to come to America in 2005 where he immediately opened his first restaurant in California, Café Firenze.
He is now owner of the fastest growing Hospitality Group in the United States, servicing several locations across the U.S. Next on his list? Harrisburg, Pennsylvania! Fabio Viviani Hospitality is working with Hollywood Casino in Grantville, PA, to revise the Cafeteria area and re-brand it "Fabio Viviani". How exciting to have Chef Viviani in our local community!