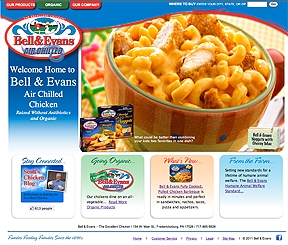 Our new website launched this week and I invite you all to check it out. A lot has happened since our last web update, so there's plenty to see.
Going Organic…
In case you didn't know, we now offer a complete line of fresh organic chicken. This link on the home page will take you directly to the information on how our organic chickens are raised. There is also a link to all our organic products and a delicious Organic Chicken Fettucini Alfredo recipe.
From the farm…
This link takes you to information on The Bell & Evans Humane Animal Welfare Standard. For in-depth information about the care and feeding of our chickens, please visit "Humane Animal Welfare" under "Our Company".

What's New…
This is the place to go to find the latest information about Bell & Evans – new products, news items, demo events and my personal appearances.  This year we will be launching a new line of organic frozen products and you will hear about it here, first!  Today we're featuring our new Fully Cooked, Pulled Chicken Barbeque. Look for it in your grocery stores in the near future.
Also on the home page, we're highlighting five new recipes each season. There's a main photograph of the dish, the Bell & Evans product you will need, and a link to the recipe card.  As you watch the home page, the recipes will rotate about every 10 seconds. Moms with finicky eaters will want to watch for the "Bell & Evans Nuggets with Cheesy Mac". We've taken your kids two favorite meals and combine them into one crowd-pleaser!
And be sure to click on "Where to Buy" to find the stores closest to you that carry Bell & Evans.