At the beginning of the new year, we all make resolutions to eat healthier. I thought it would be a good time to tell you about our chickens diet, because well-fed chickens are happy and less-stressed. The Bell & Evans Animal Welfare Standard guarantees our birds always have access to fresh water and our specially-blended feed.
The Bell & Evans Diet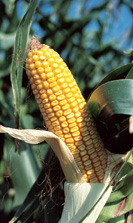 Our birds thrive on our scientifically-formulated, all-vegetarian diet. The feed is Bell & Evans' special blend of locally-grown corn and extruded and expeller-pressed soybeans, supplemented with three times the recommended vitamins, including A, D, E, K, B-12, niacin, riboflavin and thiamine. To bolster our young chick's immune systems, they are fed a special starter diet, containing 15-times the recommended amounts of vitamin E, an antioxidant.
Each batch is electronically monitored to make sure it meets our formulation standards, plus our feed is routinely lab-checked to assure its nutrient value remains constant. We also take the extra step to pelletize the feed, because it makes it more digestible and less likely that contaminants can enter the food chain.
Unlike commodity-produced chickens, we never feed our birds junk food such as rendered meat scraps; bone, feather or fish meal; animal fats; expired bakery goods; used cooking oils or grease; or feed additives containing arsenic. That doesn't sound very appetizing, does it? We don't think so either.
You may ask…
Why are extruded soybeans and expeller-pressed soybeans so important?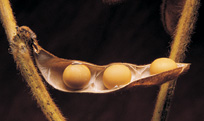 Our special soybean processing method is environmentally friendly and produces soy meal that is richer in healthy nutrients such a lecithin, linoleic acid and vitamin E than the commonly used hexane solvent-extraction process. Nearly all soybeans in the United States are processed using the hexane solvent-extraction method. As part of this process, hexane gas is released into the air.
The Environmental Protection Agency categorizes hexane as a hazardous air pollutant. Residuals from the hexane potentially remain in the final meal. Though solvent extraction is more economical, we believe that raising a healthier chicken and protecting the environment far outweigh the costs.
Growing Organic
Our organically-grown chickens dine on an all-vegetable, organic diet made from grains grown in the United States. They get their energy from locally-grown extruded soybeans and expeller pressed soybeans, enhanced with corn and amino acids, that provide additional protein and fiber essential for growing the most tender and flavorful organic chicken. Did you know some poultry producers purchase cheap, questionably "organic" grains from China? For more information: http://www.cornucopia.org/2009/05/soy-report-and-scorecard/

Bell & Evans organic farms are certified organic by Pennsylvania Certified Organic, a USDA-accredited certifier.  PCO performs regular on site plant inspections, assuring you we continue to meet the USDA's stringent requirements for organic certification.
And, of course, all Bell & Evans chickens receive no growth hormones or antibiotics, including Ionophores, in their feed, their water, or even the egg…ever.
In my next entry, I want to talk about how The Bell & Evans Humane Animal Welfare Standard impacts transporting our birds from the farm to the plant.