My team has been working on our new Organic Chicken Bone Broth for years. I'm really proud of the wonderful product we produced, and I can't wait to hear what you think of it. It's truly unique from any other chicken bone broth you can buy.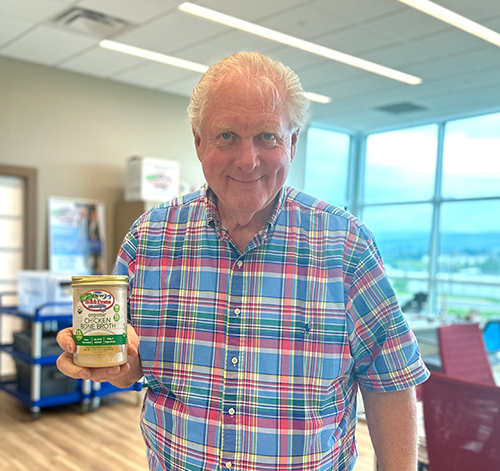 We set out to produce a fresh, refrigerated broth from our own source of organic chicken bones and knew that would be better than other broth on the market. Few other broths or stocks tell you the source of the chicken. We tasted every chicken broth and stock available and found most of them too high in salt, seasoned in limiting ways, or diluted of actual chicken flavor. I didn't find one that I enjoyed to sip straight, so that became our goal. If a broth isn't satisfying on its own, it won't make the best base for your favorite recipes.
We use only two ingredients – water and our organic chicken bones – and slow cook them like you would at home. We use a lot of joint and knuckle bones. Our broth is two-and-a-half times more concentrated than others in the market. The result is a rich, flavorful and nutrient packed broth with just the right consistency. It's so good, you can drink it on its own. Nothing else is added – no salt, no seasoning, no preservatives. With every use, you can customize it because it is pure.
You'll find our Organic Chicken Bone Broth in the refrigerated case next to our chicken. It is gelatinous when cold because each serving has 19g of protein and 10g of collagen. It's packaged in a clear, recyclable plastic jar and heat sealed like home canning, so it's leak proof, shatter proof and freezer safe. You can loosen the product by using a spoon to pop the seal of the lid to open  When it's warmed, the consistency changes back to liquid.
This broth has already become a staple in my house and many others. Nothing else compares…except perhaps the homemade kind when you have the time!