I've been waiting for this day to come for months! On Friday morning, at the 103rd Pennsylvania Farm Show, I, along with several other public and non-government partners, had the pleasure of signing the High Performance Farms Initiative.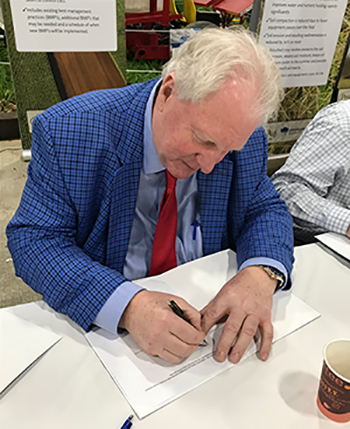 This voluntary letter of intent states that Bell & Evans, along with the other signees, commits to promoting and supporting organic and sustainable farming practices that will protect our local Chesapeake Bay Watershed. It's all about improving the soil and water quality here in Pennsylvania and producing organic agriculture that is healthier for both consumers and the environment. It's especially exciting that this came together at the PA Farm Show where Bell & Evans had a large organic presence this year to celebrate our 10th year of organic production.
The Chesapeake Bay is the largest estuary in the U.S., where five large rivers and more than 100,000 tributaries from six states, Pennsylvania included, all meet and connect to the Atlantic Ocean. That's a lot of water and surrounding land to protect, and Bell & Evans is committed to decreasing nutrient and sediment pollution. We believe that organic farming practices play a significant role in decreasing that pollution. We're looking forward to leading the conversation, and we're committed to offering long-term contracts and premium pricing to grain and poultry growers that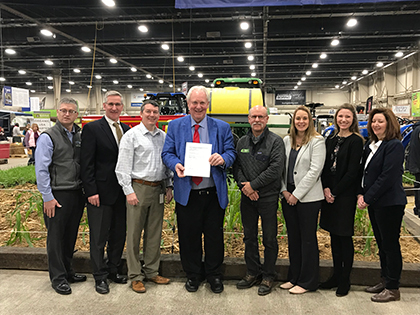 implement the best practices recommended through this Initiative. This financial support, along with the resources provided by the other signees, will enable more Pennsylvania farmers to transition from conventional farming practices to more sustainable and organic methods. Examples may include agricultural waste recycling, on-farm water retention and infiltration, soil management and more.
What better setting to sign this great Initiative than the Pennsylvania Farm Show? More on this Initiative to follow as we hit the ground running!