On the 6th Day of Chickmas

, we want to share with you
Six of our favorite recipes!

Our #6 favorite recipe is LOADED BBQ & BACON BREADED CHICKEN NUGGET APPETIZER.  It's so easy to make.  Just start with our favorite nuggets and add your favorite toppings… you can't go wrong with cheese and bacon.  It'll be the hit of your Christmas Party!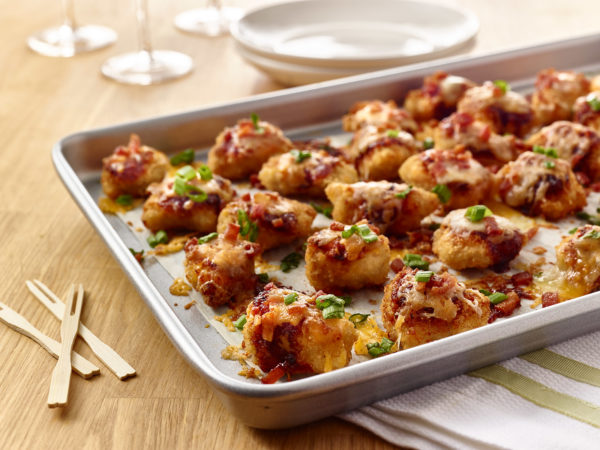 Our #5 Favorite Recipe is "The Slow Cooker Pineapple Chicken That You'll Never Stop Eating".  We featured this recipe on our Facebook page this year and you all went CRAZY over this recipe.
Our #4 Favorite Recipe is "Winter Kale Salad with Pecan Crusted Chicken".  There are so many reasons to love this recipe.  It's full of nutrients, low fat, and versatile.  You can use just the Pecan Crusted chicken and pair it with a pasta.  The recipe also pairs nicely with other greens like Spinach or Arugula.
Our #3 Favorite Recipe is "Engagement Chicken".  There are few stories more romantic than a royal engagement.  The recent engagement of Prince Harry and Meghan Markle followed on the heals of Meghan making the famous "Engagement Chicken".  It is said to be so delicious that if you make it for your significant other, they'll be so wowed they will want to marry you! With so many "Engagement Chicken" Recipes out there, we dug and found THE recipe Meghan used, by Ina Garten, who has been known to use Bell & Evans Chicken.
Our #2 Favorite Recipe is "Chicken Enchilada Chili" from favfamilyrecipes.com.  Warm up a cold, wintry evening with this easy pot of hearty soup.  Although the directions say you cook it for 4 hours, you can literally put it in the crockpot in the morning and supper will be ready (minus the easy-to-add sour cream) when you get home from work.  Delicious!
Our #1 Favorite Recipe is "Chicken and Grape Crispy Flatbread".  This will soon be your go-to recipe every Friday.  After a busy day at work, few people want to spend all evening in the kitchen.  This recipe is so easy, you can have a classy dinner that the whole family will love in less than 30 minutes.  Get the kids involved!  They'll love helping to "decorate" the Flatbread with grape halves.